Designed in the 1980s and commissioned in 1993, the ALS was one of the first third-generation storage-ring-based light sources. Third-generation light sources were designed to reduce the electron beam emittance (a measure of the beam's size and divergence) and thereby emphasize the production of high-brightness synchrotron radiation. The brightness generated by third-generation sources was orders of magnitude higher than that of second-generation light sources. The ALS, in particular, was optimized for the production of bright soft x-ray and ultraviolet (UV) light and accomplished this with a combination of low electron beam emittance, moderate (1.9 GeV) beam energy, high (500 mA) beam currents, and relatively long (5 m) straight sections for undulators.
Since the 1990s, the ALS has continued to evolve, taking advantage of advances in accelerator technology that have allowed continuous improvement in its capabilities. But existing storage-ring-based light sources have reached their limits in terms of providing high-flux, high-coherence x-rays, and new technologies are needed to tackle the most pressing scientific challenges.
Leveraging State-of-the-Art Technologies to Revolutionize Soft X-ray Capabilities
In 2015, the era of multibend achromat (MBA) light sources was ushered in at Sweden's MAX IV facility, the world's first MBA light source. MAX IV is the forerunner of many MBA storage-ring-based light sources to come, including upgrades, such as DOE's Advanced Photon Source (APS-U) just outside Chicago and the European Synchrotron Radiation Facility (ESRF-EBS) in France, and greenfield projects, such as Sirius in Brazil. Most of these projects use higher-energy electron rings than the ALS and are optimized for producing hard x-rays.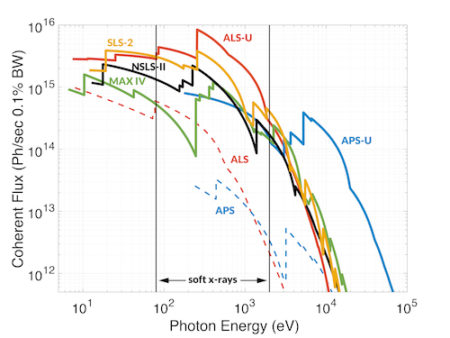 ALS-U is an MBA-enabled upgrade of the ALS, optimized to generate nearly continuous soft x-rays with the highest coherent flux and brightness. To maximize the performance of the MBA-based electron storage ring, the upgraded ALS will employ a new, concentric accumulator ring and an electron bunch-train exchange process. Operating at a relatively low electron beam energy of 2 GeV and a high current of 500 mA, the upgraded ALS will produce soft x-ray beams featuring a coherent flux that is orders of magnitude higher than that of the current ALS and beyond the coherent soft x-ray flux of any storage-ring-based light source operating, under construction, or planned.
Project Scope
The scope of work for the ALS-U project includes:
Replacement of the existing triple-bend achromat storage ring with a new, 2 GeV high-brightness, nine-bend-achromat storage ring that reduces emittance by a factor of about 30 relative to today's ALS storage ring.
Addition of a low-emittance, full-energy accumulator ring in the existing storage-ring tunnel to enable on-axis, swap-out injection (an exchange of electron bunch trains between the accumulator ring and storage ring) using fast magnets.
New insertion devices optimized for brightness and flux.
A suite of new and upgraded beamlines designed to exploit the high-brightness source.
Relocation and adjustment of existing beamlines where required.
Upgrade of some of the utilities for better electron and photon beam stability.
The project will take advantage of the ALS's existing buildings, storage-ring tunnel, linear accelerator, booster, most of its 40 beamlines, shielding, and other infrastructure. By leveraging these existing assets, ALS-U will provide a state-of-the-art facility for soft x-ray science at a fraction of the cost and time of a new facility with a similar number of beamlines.