Thirty years ago, Lance De Long, a physicist on the faculty of the University of Kentucky (UK), let a high-school student use some of his lab equipment to study high-temperature superconductors. Today, that student, Todd Hastings, is himself a UK professor, and the two have joined forces with Sujoy Roy, a staff scientist at the Advanced Light Source (ALS), to publish pioneering work on the modulation of x-ray light using metamaterials (see related science highlight).
The work was supported by a Lab Partnership Grant from the Department of Energy's Established Program to Stimulate Competitive Research (DOE EPSCoR), which is designed to encourage research in states and territories that receive a relatively small percentage of DOE funds. Hastings is the principal investigator for the grant, and Roy, along with Wai-Kwong Kwok of Argonne National Laboratory, are the lab partners.
The program places particular emphasis on collaboration among young researchers and students with scientists from the DOE national laboratories, which provide unique scientific and technical capabilities.
The ALS-UK collaboration, in addition to laying the foundation for a new way to utilize soft x-rays, has helped advance the careers of two young researchers. Xiaoqian Chen, now a staff scientist at Brookhaven National Laboratory, was able to relocate to Berkeley for three years as a postdoc while she worked on the project, thanks to EPSCoR funding.
For grad student Justin Woods, the collaboration facilitated the synthesis of samples for the project at Argonne as well as travel from there to Berkeley to perform experiments. As a result of this work, he successfully defended his doctoral thesis and is now continuing on the project as a postdoctoral visiting affiliate at Argonne from the Electrical and Computer Engineering Department at UK.
"Having somebody actually there on site interacting daily with the beamline scientist and other researchers, really gives an additional dimension to the work," said Hastings. "That's definitely been a win-win, good for everybody and good for their careers as well."
"I think this is a pretty straightforward case of what EPSCoR is supposed to do," said De Long. "We checked a lot of boxes in this project."
In terms of unique capabilities, the work, which started out on Beamline 12.0.2, was one of the first outside user projects given access to the new COSMIC scattering branch at Beamline 7.0.1.1. "There are really two options for coherent soft x-ray scattering in the U.S.," said Hastings. "The ALS capability or CSX at Brookhaven, which we've also used. At COSMIC, the new photon-counting detectors with high sensitivity made a really big difference."
Another advantage of working at the ALS is the ability to do photoemission electron microscopy (PEEM) with x-ray magnetic circular dichroism (XMCD) contrast at Beamline 11.0.1.1. The chance to do both PEEM and coherent scattering at the same facility—at almost adjacent beamlines—has been a big asset as well.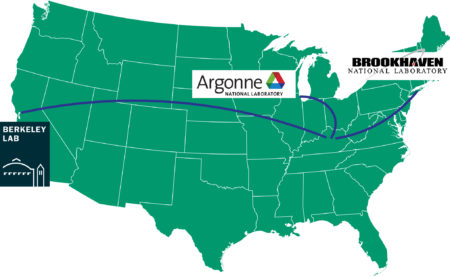 The success of this EPSCoR collaboration leaves the UK researchers well positioned to benefit from the ALS Upgrade Project (ALS-U). "EPSCoR gives you the chance to keep your momentum going, and when you really do well, you have a new area of research to exploit, where you're on the ground floor," said De Long. "There's plenty of smart people out there and EPSCoR's designed to give you an edge—that's what it's for."
The higher coherent flux of the upgraded ALS will allow studies of the dynamics of systems on much shorter timescales. "Right now we can measure changes on millisecond timescales," said Hastings. "But we know that there are fluctuations and switching in our samples that take place on microsecond or maybe even faster timescales. And so, yes, we can't wait for the upgrade."
In addition to seeding a strong collaboration between Berkeley Lab, Kentucky, and other national labs, the EPSCoR partnership has also led to a pending proposal for a much larger DOE EPSCoR Implementation Grant, for a Kentucky Acquisition and Computational Data Center.
"The goal is to set up a center that would be supportive of unique, high-speed data acquisition systems for both x-ray scattering and nuclear high-energy experiments," said Hastings, who is a co-investigator on the proposal. "It would never have happened if we hadn't done the work on COSMIC and Beamline 12."
"We as national lab partner did what we were supposed to do," said Roy. "That is, help an EPSCOR state institute and in the process delivered on the DOE mission. To me it is a great success story and I feel proud to deliver on that mission."