Presented on Tuesday, October 4, 2016, by Monika Blum (UEC Vice Chair).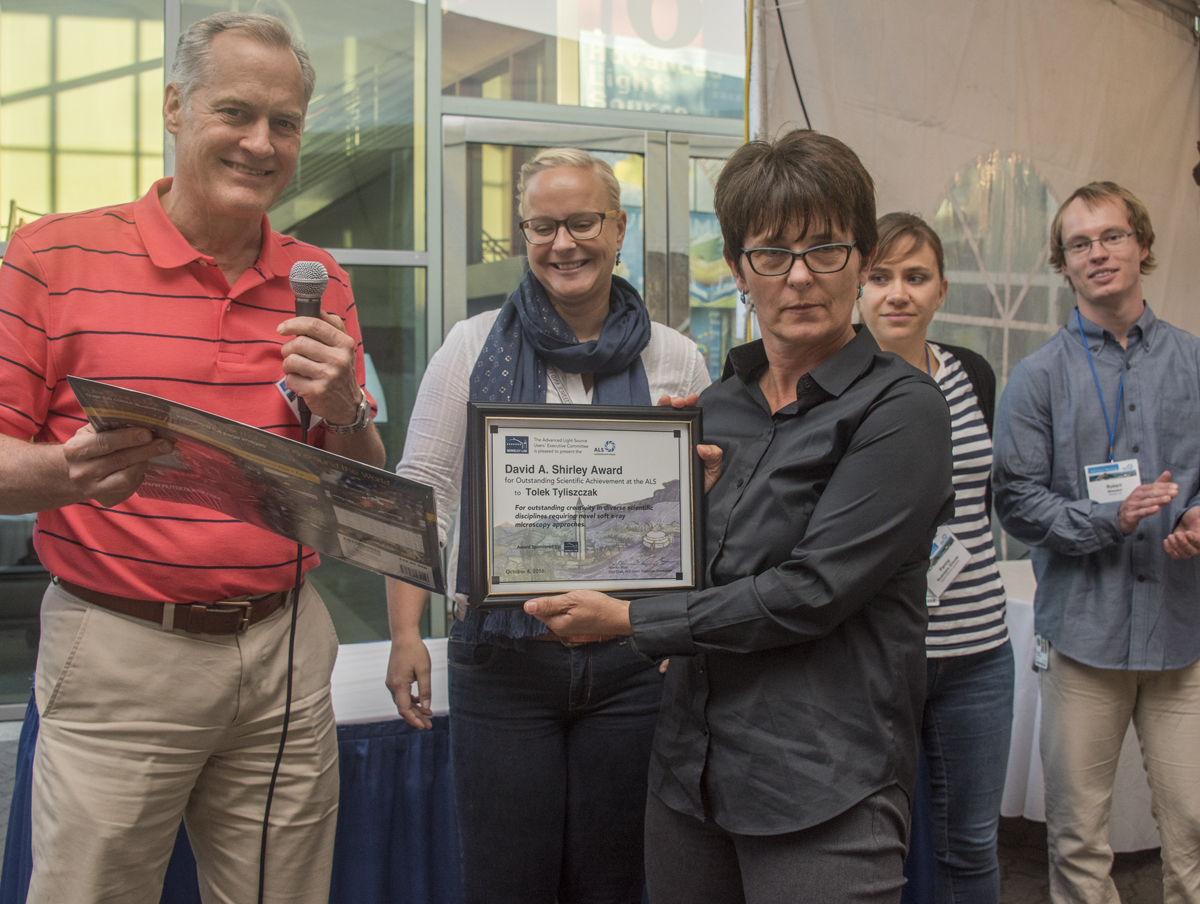 The David A. Shirley Award for Outstanding Scientific Achievement at the ALS went to Tolek Tyliszczak, "For outstanding creativity in diverse scientific disciplines requiring novel soft x-ray microscopy approaches." Mary Gilles accepted the award for Tolek.
David Shirley was a Professor of Chemistry at UC Berkeley and Director of LBNL from 1980 to 1989, and was instrumental in having the Advanced Light Source built.  He is now retired from the lab.
Sponsored by Berkeley Lab.
---
The Klaus Halbach Award for Innovative Instrumentation at the ALS was awarded to Eli Rotenberg, Aaron Bostwick, Chris Jozwiak, Geoff Gaines, and Roland Koch, "For the development of the MAESTRO endstation suite."
Klaus Halbach was a senior staff scientist at LBNL who pioneered the development of undulators using permanent magnets, and other innovations in accelerator physics.  Even though he retired from LBNL in 1991, he remained active in lab projects and student training until his death in 2000.
Sponsored by VAT Valves, Insync, and Luxel.
---
The Tim Renner User Services Award for Outstanding Support to the ALS User Community was awarded to Bruce Rude, "For outstanding commitment and attention to detail in providing excellent and unique instrumentation and support to ALS users," and to Doug Taube, "For maintaining an outstanding standard of safety for our users and for defining what it means to be a true friend of the ALS user community."
Tim Renner was a beamline scientist at the ALS who died at an early age, and who during his career touched everyone that knew him with his caring attitude to others and his larger-than-life personality. This award recognizes the services of others across the ALS organization who, like Tim, have made outstanding contributions to the ALS User Community.
Sponsored by the ALS.
---
The Neville Smith Student Poster Award first prize went to Ingrid Hallsteinsen (Norwegian University of Science and Technology) for her poster, "Introduced ferromagnetism at the interface of complex oxides." Second prize went to Rebecca Siegelman (UC Berkeley) for "Structural Characterization of Framework Guest Interactions in Metal-Organic Frameworks." Michael Tuchband (CU Boulder) was awarded third prize for "Resonant carbon K-edge x-ray scattering from the heliconical nematic phase of CB7CB and its mixtures."
Neville Smith was the Scientific Director for the ALS from 1994 until his death in 2006. He was known not only for his scientific expertise, particularly in photoemission spectroscopy, but also for his wicked wit. As a great supporter of young scientists, his contribution is acknowledged by the naming of the Student Poster Award in his honor, beginning in 2014.
Sponsored by Zeiss.