Kidney stones are typically hard, pebble-like minerals that form in the kidneys and can cause severe pain as they move through the urinary tract. However, a much rarer type of kidney stone consists of biominerals and proteins in a soft matrix. The formation of these soft "matrix stones" is closely associated with the presence of bacteria from unchecked urinary tract infections.
"There are many different types of stones that grow in the kidney, but what's interesting about this particular type is that its growth is facilitated not just by the bacteria, but also by the human being, in response to the bacteria," said Sunita Ho, a bioengineer at UC San Francisco. She and her colleagues conducted a comprehensive study of surgically extracted matrix stones, using a variety of biochemical and materials-science approaches.
One way in which the human immune system responds to invading microbes is by forming web-like structures called neutrophil extracellular traps (NETs) that envelop the microbes, similar to nasal mucus produced in response to a cold. The web-like structures also act as scaffolds, facilitating the nucleation and precipitation of inorganic particulates. Additionally, NETs that contribute to matrix stone formation likely contain zinc, which, coincidentally, microbes need to grow and thrive.
At the Advanced Light Source, x-ray microfluorescence at Beamline 10.3.2 was used to locate zinc-rich regions in matrix stones, and x-ray microdiffraction at Beamline 12.3.2 was used to zoom into how the zinc is incorporated into the matrix. The microdiffraction data revealed smaller unit-cell volumes in the high-zinc regions, suggesting that zinc ions were substituted for calcium ions in hydroxyapatite, a mineral found in teeth and bones. Because zinc has a smaller ionic radius than calcium, this substitution results in a more compact structure with greater abrasion resistance, particularly necessary for teeth.
The soft nature of matrix stones may make them seem benign, but they are more difficult to detect than hard kidney stones and, if left unchecked, could eventually disrupt kidney function. This work highlights how host defense mechanisms against microbes can simultaneously encourage harmful stone formation—a unique double-edged sword effect of the immune response to microbial attack.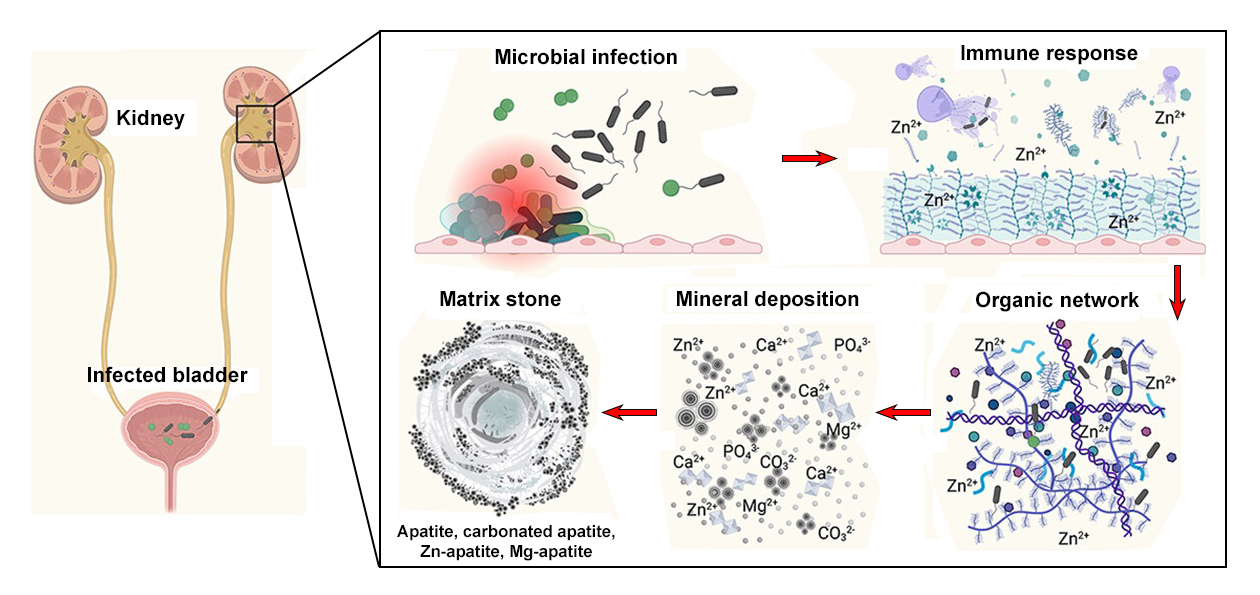 Y. Bai, Y. Wang, M. Kang, C.M. Gabe, S. Srirangapatanam, A. Edwards, M. Stoller, S.J. Green, S. Aloni, N. Tamura, E. Beniash, M. Hardt, and S.P. Ho, "Organic Matrix Derived from Host–Microbe Interplay Contributes to Pathological Renal Biomineralization," ACS Nanosci. Au 3, 335 (2023), doi:10.1021/acsnanoscienceau.2c00060.